SOUTHGATE DICK GENTHE CHEVROLET BODY SHOP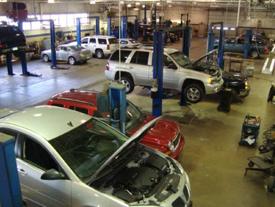 Dick Genthe Chevrolet can perform the services to restore your GM vehicle's safety, comfort, and performance. Schedule an appointment, learn what to expect from our body center experts, the reasons for using genuine GM parts, related collision repair information and other services we offer.
WHY BRING YOUR VEHICLE TO DICK GENTHE CHEVROLET
At Dick Genthe Chevrolet in Southgate, MI our Certified Service technicians are trained by GM to know every inch of your vehicle. We understand your vehicle and all its technical systems. We're proud to offer genuine GM parts. We know you want to feel as good about your vehicle today as you did the day you bought it. And our Certified Service technicians have the skills and finesse you need to restore your vehicle so it will look and feel like new.
WHAT TO EXPECT AT DICK GENTHE CHEVROLET BODY CENTER
We'll create a written estimate of what's recommended to complete the repair, offering you Genuine GM Parts. In addition, if there is other service work that is required to restore your vehicle to pre-accident condition, we have Certified Service technicians on hand. We will review this estimate with you and address any questions you may have.
OUR CHEVROLET BODY SHOP IN SOUTHGATE, MI IS HERE FOR YOU!
Do you have a Chevy vehicle in need of repair? Look no longer for our Chevy body shop that offers the best repair services that are satisfactory is around the corner. Our technicians are well trained and can handle all equipment professionally, therefore, ensuring accurate repairs. Welcome to our shop today. Below is our body repair process. Feel free to look through it.
DAMAGE ASSESSMENT
After the accident has happened, it is crucial to look at the damage done. The damage done should be documented, and a statement is written to the police and the insurance company. This process ensures that a quick estimate of the damage is done. This helps decide if the car will be written off or repaired, depending on the damage done. Then you can get a towing service to get your vehicle to our autobody shop.
REPAIR COST ESTIMATION
Once the vehicle is at the auto body shop, the technicians conduct a series of tests on the car to get an actual picture of the damage done. The tests enable them to give an accurate quotation of the repair costs. Our body shop has computer software that assesses both external and internal damage. This software also formulates a quote that is delivered to the insurance company.
THE CAR IS TORN DOWN
The technicians then map down the vehicle as they tear it down to have a clear picture of the car's condition. If more problems or damages come up, the insurance company and driver are alerted so that the repair cost estimates done in the previous stage are revised. The car is then thoroughly disassembled, and all the parts that require repairing are ordered.
REPAIRING OF ALL METAL PARTS AND THE FRAME
The technicians use a frame diagnostic system that assesses the car's framework for Woodhaven, MI. The system ensures the frame has accurate shaping. The framework is important and is the first to be repaired if damaged. The vehicle then undergoes an analysis of all the metal parts by an electronic measuring system. This analysis ensures all repairs are up to factory standards. The chassis and frame have to be in perfect condition as they are very integral in the car structure and movement. They are done first so that the technicians avoid emergency adjustment.
REASSEMBLY AND PAINTING
The vehicle is prepared for painting by taping the delicate parts and sanding the body. A base coat, which is similar in color to the original, is applied, followed by a clear coat. Then a glossy finish will be applied to retain the car's shine. Then all the parts that got disassembled will be put back in place. Our technicians are careful because this part is very integral to the functioning of the car. Then a test drive is undertaken to ensure the vehicle is in driving condition and everything works perfectly. After this, the vehicle is cleaned thoroughly to make sure the parts are in spotless condition. The surface is re-polished in case some parts have been scrubbed off.
INSPECTION AND COLLECTION
The car is inspected the last time to make sure everything is in perfect condition and ready to be delivered to the client or if the client can collect it. Then the cost is settled, paperwork cleared, and the client alerted. The body repair process is quite long, but it's best to make sure the car is safe for the driver after a crash or a collision.
VISIT DICK GENTHE CHEVROLET TODAY IN SOUTHGATE, MI
Our shop ensures our clients are satisfied with our service and drive home with a perfectly working vehicle. Apiary from Chevys, our shop also offers service repairs for other car brands at affordable prices. Whether you're in Dearborn or Taylor, MI, contact Dick Genthe Chevrolet to learn more our service and parts specials, our Certified Express services, and about our dealership.